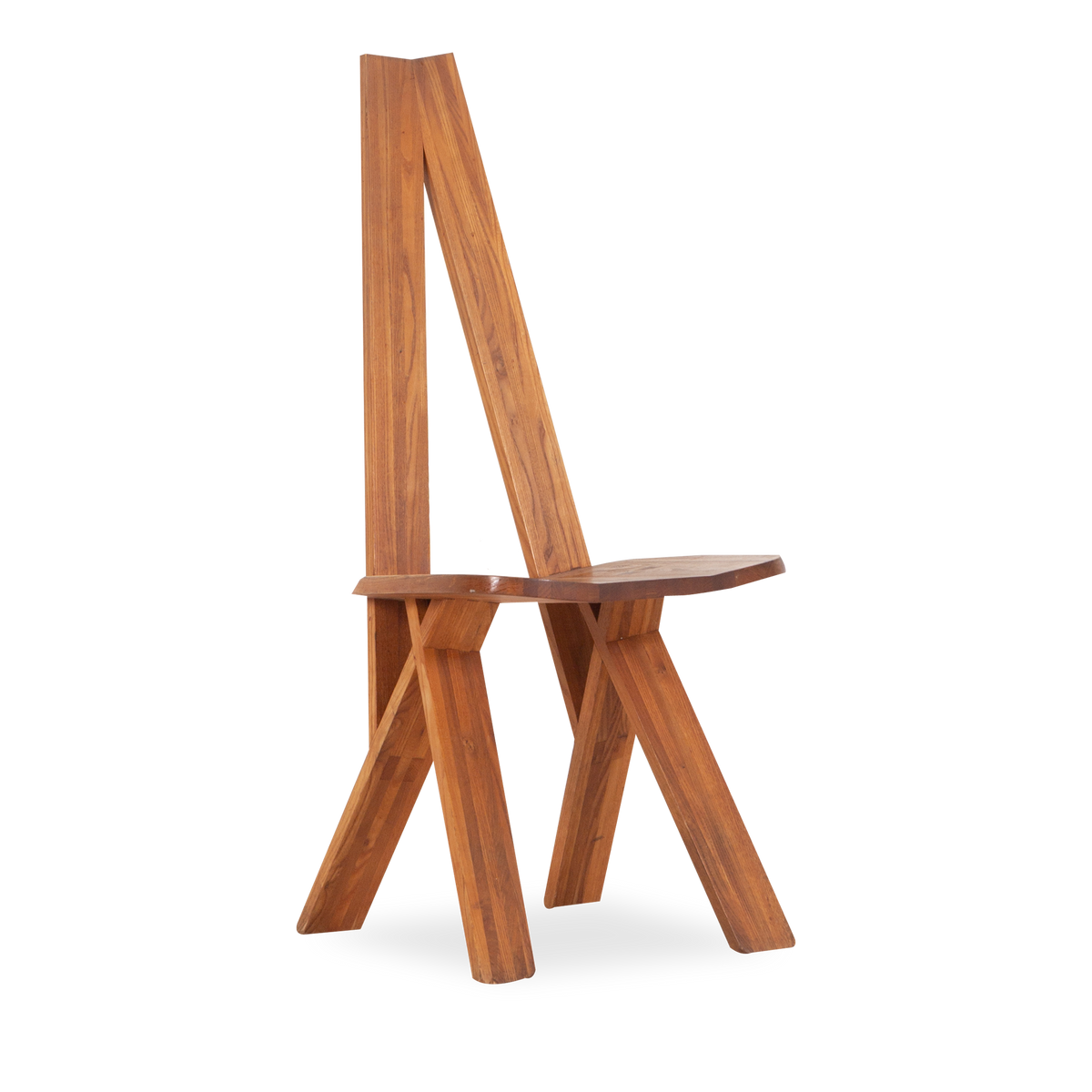 Vintage Pierre Chapo S45 Chair
Price For 1 Chair (Sold As A Set)
Description
Combining traditional craftsmanship with a unique perspective on architectural design, this vintage S45 chair was designed by Pierre Chapo and was manufactured in his own workshop. One of his most sculptural creations, the shape of the S45 chair (also known as the 'Chlacc' chair) bears resemblance to the iconic Eiffel Tower in Paris where its creator was born. Displaying Chapo's famous craftsmanship and joint woodwork, this chair features balancing proportions of solid elm wood.
Pierre Chapo (1927-1987) can be considered as one of the most recognized designers from the French Modernist period. Born in Paris to a family of craftsmen, Chapo was initially interested in becoming a professional painter. However, after a chance meeting with a shipbuilder who introduced him to woodworking, Chapo changed his focus. He decided to study architectural studies at the prestigious École Nationale Supérieure des Beaux-Arts in Paris, graduating in 1958. Chapo was inspired by Frank Lloyd Wright's balanced lines, Corbusier's research on proportions and the Minimalist tendencies of Bauhaus. He measured his furniture by means of the golden ratio and used Elm wood as his preferred material.
Style: Mid-Century Modern
Period: Circa 1970s
Sold as a set and cannot be purchased individually. Price displayed is for 1 chair. See in-store for details.
Elte's Vintage Collection brings you a range of stunning furniture and accessories, from mid century modern designs to classic designer pieces, carefully curated from all the world. As with all authentic vintage items, quantities are limited and pieces may show imperfections of age.
Product Code:
Measurements
Width: 17.5"
Depth: 22"
Height: 41.5"
Measurements
Width: "
Depth: "
Height: "
Additional Measurements
Seat Width: "
Seat Depth: "
Seat Height: "
Arm Width: "
Arm Depth: "
Arm Height: "
Availability and Delivery